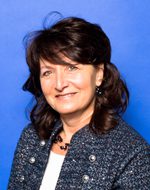 As Director of Human Resources, Lori provides strategic direction and oversight of all people-related functions within the organization in accordance with company policies and practices including recruitment, compensation and benefits analysis, creation and implementation of both personnel and company-related policies, procedures, documentation, and regulatory compliance. Lori works closely with and coaches the Executive Management Team to ensure alignment with the company's overall mission and strategy. In addition, Lori addresses and coordinates the resolution of specific policy and procedural problems, and ensures that all staff adheres to the Verus core values and high corporate standards. As a Human Resources professional, Lori holds certifications in numerous HR-related applications and membership in several specialized organizations.
Before joining Verus, Lori supported senior leadership teams in the Biotechnology arena, where she worked with global teams to execute corporate initiatives. Working with managers from a wide variety of departments including scientific management and operations, sales and marketing, finance, and information technology, Lori applied high-level expertise to build succession planning, retention, and training and development programs. She was also responsible for the development of executive performance management programs, identification of benchmark data for compensation analysis, and the development and implementation of company policies.
In her spare time, Lori enjoys going to the beach and spending time with her family.