Zantac Census Plus Deadline:
We Have You Covered.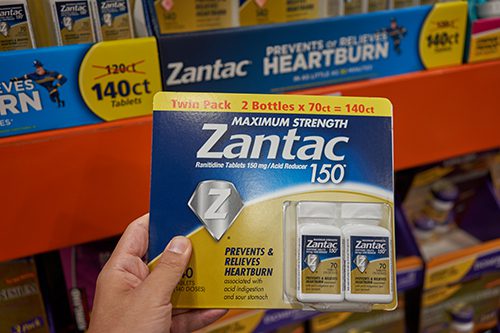 Verus can help your firm manage your Zantac® cases through our state-of-the-art web portal. If you would like to see a demo, please fill out the form. The Verus' Zantac Census Plus platform subscription supports law firms by helping them achieve key objectives:
Drive Down Cost with Increased Safety
Web based, mobile ready
White labeled client deployment (look & feel resembles your firm's communications)
Customized data reporting
Electronic signature integration
Increase Quality
Question validations for accuracy of data capture
Case management system APIs
Quality control reporting
Streamlined interface for ease of use
The Solution at Work:

Streamlined navigation allows claimants to enter information directly onto the platform which allows for easy retrieval and case look up.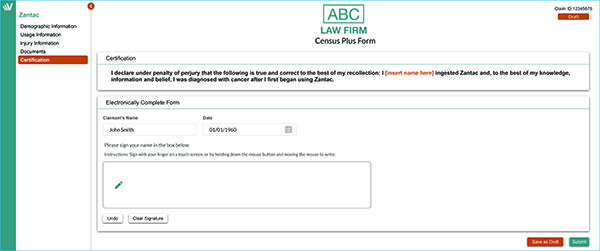 Claimants are able to access their unique file, upload documents and sign their certification directly on the platform.
Subscription Details:
By working with Verus, your firm receives a dedicated solution that fits your specific needs. Our platform subscription provides access to a customized Zantac portal that puts the power of technology-enabled tools in your hands with the flexibility to handle more traditional client responses. Subscriptions are billed on a monthly basis with a 30-day cancellation policy, if circumstances change. While simple and easy, the impact across your case inventory is immense. Once on our platform, we can offer preferred pricing for any additional services like claimant communication, upload assistance into the MDL and any other service to support the scaling of your operations. If your staff can handle your current case volume, then the subscription is all you need. To see a demo or to discuss access to our Zantac platform, contact Dan Comunale today.
Additional Services:
The Verus team also provides the following Zantac services:
Upload of cases into the MDL document repository
Proof of use review
Medical record management and review
Claimant communications
Why Verus?
Experienced reviewers supported by registered nurses who specialize in analyzing the requirements of mass tort claims
Proprietary software platform that allows rapid deployment of customized review and re-porting solutions
Financial benefits including flexible payment plans
Contact us today by filling out the form or emailing us at info@verusllc.com.
If your firm is involved in the Zantac® Litigation, Verus is here to help.
Please fill out the form to schedule a demo or to discuss our Zantac services.